Automatic Endoscope Washer "Kagami-Naishi"
"Kagami-Naishi"


Endoscopes are contaminated by microorganisms after each clinical use. Therefore, the whole of endoscopes should be disinfected in a high level after each patient use. However, it takes long time by manual brushing. And more over, cost of decontaminating chemicals and anxiety of their possible harms to the operators are also still there. In this connection, the Strongly Acidic "DENKAISUI" Electrolyzed Water now has gotten a lot of attention recently as a new disinfectant to solve such problems.
The Strongly Acidic "DENKAISUI" Electrolyzed Water has strong sterilizing power, while keeping low operation cost and high safety in usage.
There are papers about the application of the Strongly Acidic "DENKAISUI" Electrolyzed Water for Endoscope Channel Cleaning presented at The Japan Gastroenterological Endoscopy Society (JGES) and The Japan Gastroenterological Endoscopy Technicians Society (JGETS). They conclude that the strong sterilizing power can be expected with this particular water as long as operators fully understand its characteristics.

Motivated by these opportunities, KOKEN has featured Endoscope Channel Washer with an automated brushing with built in the Strongly Acidic "DENKAISUI" Electrolyzed Water generator.
It names "Kagami-Naish" in Japanese, meaning like "Mirror Polishoer" or "Endoscope Servant" if we give it an English pet name.

"Kagami-Naishi" is equipped with not only the Strongly Acidic "DENKAISUI" Electrolyzed Water generator but also it has world's first automatic endoscope channel brushing system. Thanks to this system, safety cleansing and disinfecting work on endoscopes are now available to replace of manual brushing done by medical facility workers. Moreover, drastic reduction of time with less water and energy is also achieved. Now, "Kagami-Naishi" is increasing its installation base throughout the country.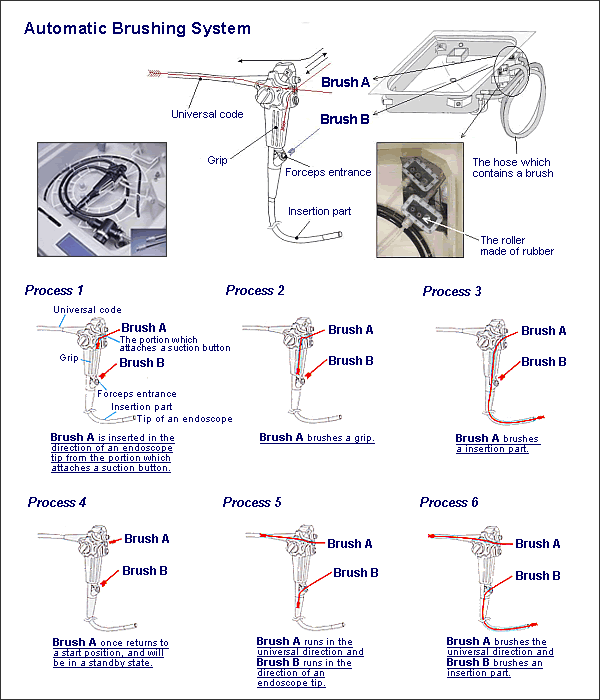 The ideal endoscope channel brushing with running water has been implemented by our original technology. Aspiration and bioptome channel is the pathway for filth from the human body, blood and air. Also it works as a pathway for the biopsy instruments. Due to its contamination, physical brushing by exclusive brush is strongly needed. After a biopsy, a piece of mucous tissue can still remain inside of the channel. And it is very difficult to remove it out by sucking with cleaning solvents. Therefore, thorough cleaning work is definitely required after every usage.
However, manual washing work tends to be an insufficient one due to its time consuming and troublesome nature. Now, "Kagami-Naishi" carries out the channel brushing work automatically. Programmed control assures reliable washing work and can standardize the work level. Brushes automatically move back and forth in the cannel to rub secretion and blood that remain inside there.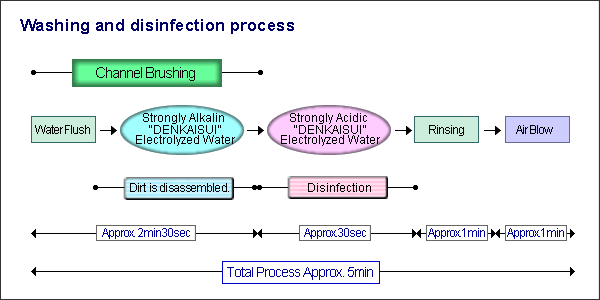 If we follow the Guidelines for Procedures for Cleaning and Disinfecting Endoscopes by Japan Gastroenterological Endoscopy Society, it takes approximately 5 minutes for cleaning and 10 to 15 minutes for disinfection, followed by rinsing of the instrument and then total duration this job will be half an hour. "Kagami-Naishi" greatly shortenes the whole process. Cleaning and disinfection of the endoscopes now can be performed between shorter intervals of each session.
---
Main features of "Kagami-Naishi"
Very shortened washing process (Whole process takes only 5 minutes)

Easy operation by touch panel.

Manufacturing and sales approval under the Pharmaceutical Affairs Law was received for "Kagami Naishi," a fully automated endoscope cleaning system, in February 2006.

Specifications

Dimension

640(W) X 860(D) X 1,038(H) (mm)

Weight

Approx. 140kg (In dry condition)

Maximum Capacity

Strongly Alkaline "DENKAISUI" Electrolyzed Waterr
Strongly Acidic "DENKAISUI" Electrolyzed Water
0.4 ± 0.05 liter / min each

Power

AC 100V (50/60Hz) , 1500VA