World's first Breath-Synchronized Air Flow System (BSFS)
BSFS continuously supplies equivalent amount of breathed air with the wearer. By monitoring inside pressure of the wearer's facepiece that varies according to the wearer's breathing pattern, BSFS calculates necessary air flow rate for smooth and comfortable breathing. Then it controls fan speed so that inside pressure of facepiece is kept consistent while inhalation and exhalation.

Unlike conventional PAPR systems, which simply keep sending constant and large amount of air flow, BSFS supplies an optimum amount of air flow that is synchronized with the wearer's inhalation pattern and also it keeps positive pressure inside the facepiece. This assures a considerably longer service life of filters and batteries than a constant flow powered air-purifying respirators.

Full-Facepiece PAPR, with a Built-in Moter Fan Type, is also available.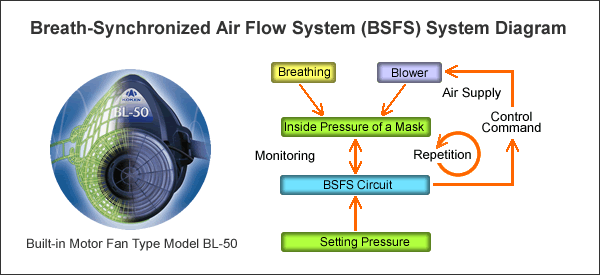 Optimized air flow synchronized with breathing pattern
BL-50 supplies equivalent am ount of inhaled air into facepiece. The air blow is activated when inhalation begins. No air is supplied into the facepiece during exhalation. Thus, natural breathing is available and you will feel as if there were no respirator on your face.
Enhanced ability to maintain safety

BSFS blows optimum amount of air that is synchronized with wearer's inhalation pattern.
By monitoring air pressure in facepiece that varies according to the wearer's breathing pattern, BSFS calculates necessary airflow rate for smooth and comfortable breathing. As the internal air pressure is kept consistent, chances of inward leakage are very slim. As shown in the above chart (right), air pressure in facepiece becomes lower when filter is clogged. ("FAN OFF" shows same condition of ordinary respirator with clogged filter.) Then, there are higher possibilities of breathing difficulty and inward leakage. Even under such conditions, BL-50 minimizes air pressure reduction to lessen inward leakage. Thus, protection of wearer is maintained in high level.
Extended intervals
for filter replacement
Breathing through particulate respirator becomes difficult when filter air-flow resistance reaches at 100Pa, which suggests replacing filter. At filter resistance 100Pa, air pressure in facepiece exceeds 200Pa, and wearer experiences difficulty in breathing.
However, BL-50 keeps optimum facepiece air pressure by supplying breath synchronized air flow even when filter's air-flow resistance reaches at 100Pa.
This extends intervals for filter replacement and
saves running costs.
Built-in Motor Fan Type Model BL-50

Intelligent motor fan is housed in facepiece to achieve quicker response to feed back signals from breath sensor.
Respirator and motor fan are integrated in one body to make the system compact.
Snap-in
Release and detach
Pocketable Battery Pack
Belt mount
Specifications

Mechanism

Breath-Synchronized System

Air Blow Settings

For light and medium work load

Warning System

Buzzer and lamp for low battery voltage

Filtering Efficiency

95pct and more *1

Protection Factor

99pct and more *2

Nominal operating time

12hours and more (Light and medium work load)*3

*1 Test particulate: DOP, Test air flow rate: 85L/min
*2 Equivalent to JIS T 8157-1991 1st grade
*3 Operated by provided chargeable battery HHR-3PPS

Battery

Size AA nickel metal-hydride secondary battery
4 cells serial 1.2V * 4 cells= 4.8V 2000mAh
Rechargeable for 300 times

Charging time

Apx. 4 hours

Weight

Facepiece

Apx.185g (Including filter)

Battery pack

Apx.180g (Including batteries, excluding battery pack pouch)

Lifetime of the fan motor

Apx. 2,000 hours (Or shorter, subject to status of use.)

Replaceable parts

Alpha Ring Filter
BLA-6
Battery HHR-3PPS
Facepiece BL-50
Cradle style
headband Type RB

Sponge for BLA-50
Battery charger BQ-390
Battery pack BC-50
Battery pack pouch

Optional accessories

Battery pack cover
Inlet cap
Fit tester Type N