Purification System for Polluted Soil and Subterranean Water

The Aqua Flash Model UV-G1000 uses ultraviolet rays and the Strongly Acidic "DENKAISUI" Electrolyzed Water to purify polluted soil and subterranean water.
On a tremendously and massive scale, chlorine chemicals such as Trichloroethylene and Tetrachloroethylene have been used as a cleansing agent and solvent for a long time in many industrial sectors. Recently, their discharge to environment is under strict regal control in Japan due to their possible connection with cancer once they contaminate subterranean water.
In Japan, there are some factories which have polluted their soil and subterranean water with these chemicals. And countermeasure to cleanup of such past pollution is now hot issue.
To meet such requirements, KOKEN features a unique purification system for polluted soil and subterranean water by combining decomposition technology that uses an energy-saving ultraviolet lamp and elimination technology that uses the Strongly Acidic "DENKAISUI" Electrolyzed Water. Consequently, the system is safe both for users and the environment.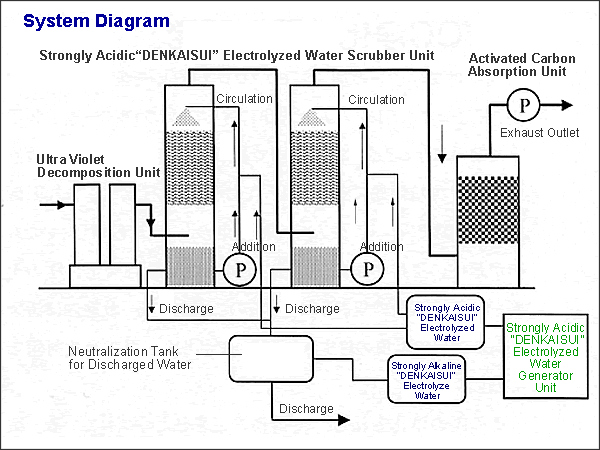 The Aqua Flash series integrated and combined new technologies such as:
1) Ultraviolet rays decompositions chlorine chemicals.
The light source is KOKEN's very original UV lamp using our unique frequency spectrum and specially designed glass tubing. Thus, our UV lamp acquired 50% higher output power than conventional lamps, and it contributes to the system efficiency.
2) The Strongly Acidic "DENKAISUI" Electrolyzed Water generated by KOKEN "Oxilyzer" helps ultraviolet rays' decomposition process. This water is now becoming widely used amongst Japanese medical facilities as a human-friendly disinfectant.
Moreover, the decomposition product is treated by The Strongly Acidic "DENKAISUI" Electrolyzed Water and the Strongly Alkaline "DENKAISUI" Electrolyzed Water, which is also generated by the Oxilyzer. Consequently, the discharged water is chemical free water.
3) On top of above, gas absorption technology using activated carbon absorption unit has been equipped as a back up system.
Aqua Flash Model UV-G1000

Consumption of the activated carbon has been greatly reduced thanks to the energy saving, high efficient UV lamp, which directly decomposes chlorine organic vapor.
Environment friendly disposal of decomposition product is attained by safe and harmless Strongly Acidic "DENKAISUI" Electrolyzed Water.

Aqua Flash Model UV-G300

Gas purification system for relatively small polluted area.
Operates with standard 100V power source.
Unit model. Just put, connect and run.

Main Features

UV-G1000

UV-G300

Object Substances

Trichloroethylene,
Tetrachloroethylene
Trichloroethylene,
Tetrachloroethylene

Amount of Air Treatment

Max 60m3/hrs
Max 20m3/hrs

Treatment Performance

100ppm / Not less than 99%
300ppm / Not less than 99.5%
100ppm / Not less than 99%
300ppm / Not less than 99.5%

UV Lamp
Life Time

5,000hrs

5,000hrs

"DENKAISUI"
Electrolyzed Water
Generator

Type : Oxylizer
Model : OXO-01X
Electro lode replacement at every
3,000hrs


Type : Oxylizer
Model : OXO-004X
Electro lode replacement at every
2,000hrs


Power Supply

AC 200V (50/60Hz)

AC 100V (50/60Hz)

Water Supply

Direct connection to tap water

Direct connection to tap water

Power
Consumption

3.5kw

1.5kw

Dry Weight

Approx. 1,500kg

Approx. 800kg

Dimensions

4,200(W) X 1,200(D) X 1,600(H) mm

2,500(W) X 1,200(D) X 1,700(H) mm