Various types of face masks
We use the word "the mask" in a general sense, but there are a wide variety of types and roles in face masks. They include surgical masks sold at a drug store, masks strictly regulated by the Ministry of Health, Labour and Welfare of Japan, masks for use in natural disaster and emergency and so forth.
Take the surgical mask for example. The surgical mask (a pleated mask made from non-woven material), as the name suggests, was originally worn by a surgeon to prevent him/her from spreading his/her droplets during operation. It is not designed in principle to prevent the wearer from inhaling particulates and viruses.
A mask to prevent the wearer from spreading his/her droplets is one and a mask to protect the wearer from the inward leakage of particulates and viruses is another. Although they are both called simply "mask", their roles are different. You have to properly use a mask that suits your purpose based on correct knowledge for the type and role of a mask.
Koken has accumulated the technological knowhow for Japan national assay approved masks used in industrial sector (such as factory and construction site) over the years and is proud to have gained trust from our customers through the supply of safe and highly workable products.
Now, we are taking advantage of our accumulated technological knowhow to expand the scope of our activities into the medical field and the consumer market.
[Masks are used in different scenes]

Particulate respirator for industrial use

Self-Contained Breathing Apparatus (SCBA)
for fire-fighting and evacuation

Surgical mask

Mask for home use
Particulate matters are floating and spreading widely in the air. They are produced from various anthropogenic or natural sources such as combustion, mechanical crushing, and process of transformation from gas to solid particles.

Among air pollutants, fine particulates less than 2.5 micrometers in size are known as "PM 2.5." They include many pollutants of anthropogenic origin, which are more harmful than those produced from natural sources. The examples are secondary pollutants formed in the air when diesel emissions or gaseous pollutants react in the atmosphere.

To prevent the inhalation of such harmful particulate substances, a high performance air pollution mask is needed.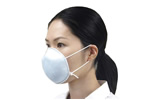 There are broadly two types of masks to prevent the spread of infectious diseases. One is the surgical mask used as cough etiquette to prevent the spread of droplets generated by cough and sneezing into the surrounding environment. The other is the high performance mask (such as N95 respirator) that prevents the wearer from inhaling fine airborne droplet nucleuses that are dried and shrunk to less than 5 micrometers in diameter.

High performance masks that we manufacture and sell are equipped with high performance filter and 3-D free fit lip cushion that ensures a snug fit to the face.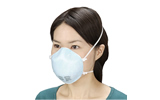 Pediatric mask to protect children's health
As the events that require the wearing of a mask have happened one after another such as asbestos removal work after the Great East Japan Earthquake, the new influenza virus, PM2.5 and the volcanic eruptions recently, we have received the increasing number of orders and inquiries directly from consumers.

To provide high performance masks to consumers for their protection against such harmful substances, we decided as a first step to develop pediatric masks for children who are at high health risk.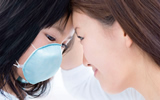 Since no performance standards for the pediatric mask have been defined internationally, we had no alternative but to launch our own research to study comparative date between adults and children.
Based on this research, we have successfully developed the pediatric mask for children that has effectively the same filtering performance as Japan National Assay approved mask for adults and can provide the same level of mask fit as Koken's Hi-Luck series of disposable particulate respirators for adults.
Contact
Koken
for any inquiries.