KOKEN manufactures and sells three kinds of clean zone creators as the ultimate clean air solutions.
KOACH - Super Clean Zone Creator
Developed based on an entirely new concept,
KOACH-A super clean zone creator
will help you improve quality and manufacturing yields of your products and reduce manufacturing costs by providing a high level of cleanliness under low power consumption at your production facility.
The development engineers of KOACH received the Prime Minister's Award (top honor) in the 6th Monodzukuri Nippon Grand Awards in recognition of its unique features and substantial benefits. For more information about the Awards.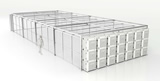 KOKENLAMINAR - Push-Pull Local Ventilation System
Gases, particulates and fumes that are harmful to humans may exist in factories or medical facilities.
KOKENLAMINAR -A push-pull ventilation system
that can remove such harmful substances in the environment, will protect the health of workers and create a comfortable workplace environment.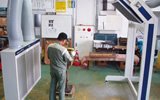 Please click the following links for details.