"KOACH"-A super clean zone creator, born from the change in the way of thinking
The idea of forming a clean zone in an open space, which was thought impossible until now, was born from the change in the way of thinking that two push hoods should be placed opposite to each other.
By making purified coherent airflows generated by the two opposing push hoods collide with each other at the center, the KOACH can form a super clean environment with the world-highest cleanliness of ISO Class 1. KOACH was born.
Both the filter technology acquired in our mask business and the air flow control technology developed in the push-pull local ventilation system business have been incorporated into the development of the KOACH.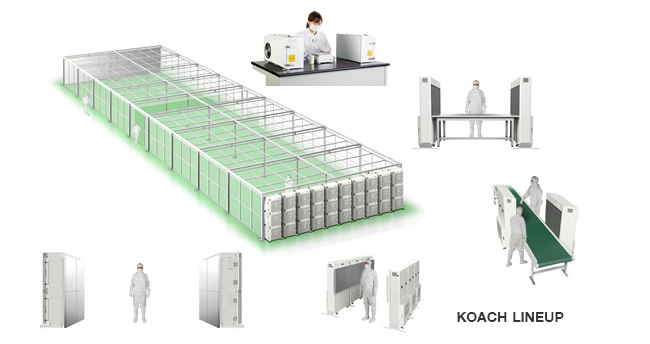 KOACH, evolving beyond your imagination
In its first year, the new 'cleanroom' technology that had never before existed was met with curious eyes and suspicion.
In its second year, an order came for the first time from Japan's National Institute of Advanced Industrial Science and Technology (AIST) and it won the main award in the 2010 Best 10 New Products Award sponsored by The Nikkan Kogyo Shimbun (Japan's business and technology daily news).
In its third year, people were amazed at its ISO Class 1 cleanliness.

In its fourth year, all models in the KOACH series were equipped with "FERENA," nanofiber filter and achieved ISO Class 1 cleanliness. As new products such as the room type and the table type were launched on to the market, a client base was expanded to more than 100 including the Institute for Cosmic Ray Research, University of Tokyo and Shimane Fujitsu Limited.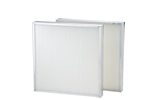 FERENA
From its fifth year on, the client base is still expanding, including not only well-known research institutes such as Japan Aerospace Exploration Agency (JAXA) and Center for iPS Cell Research and Application (CiRA) but also many private companies for their assembly and inspection processes of the production lines.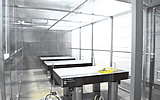 Cosmic Ray Research, University of Tokyo
The KOACH series cleanroom systems continued to receive distinguished business awards, one after another:
・A Nikkan Kogyo Shimbun Top 10 New Product Prize
・The Machine Design Award
・The Energy-Efficient Machinery Award(JMF's President Award)
・The Japan Resilience Award
・The Prime Minister's Prize (top honor for the category of product and technology development) in the 6th Monodzukuri Nippon Grand Awards
Thanks to a spate of these awards, we hope that KOACH's originality, creativity, design superiority, energy-saving performance as well as resilience will be increasingly known in the clean technology market.
Monodzukuri Nippon Grand Awards
KOACH makes once-unaffordable "super clean" become commodities in the industry
A super clean environment was always beyond everybody's reach. Besides its initial investment, it requires expensive maintenance and sophisticated administration.
Now with advent of the revolutionary technology invented by Koken, a super clean zone is now made affordable by everybody: Inexpensive, it can be installed anywhere and is easy to use.
A super clean zone that used to need a large sum of investment becomes commodities in the industry on the arrival of KOACH. This is a revolution in the clean technology market.
KOACH
provides an overwhelmingly high degree of cleanliness and maintenance is easy.

is equipment. No construction is needed. Thus cost is kept to a minimum.

has no surrounding walls. Thus workability is increased.

consumes less electricity.

can be relocated, changed in size (room-type KOACH). Thus failure-proof investment.

has no heavy objects on the ceiling. Thus earthquake-resistant.

can be installed in an extremely short time.
Contact
Koken
for any inquiries.