Particulates and Particulate Respirators
There exist various types of particulate substances in our surroundings. Some particulates are inhaled into the body, which may cause health disorders. A typical example of this is "Pneumoconiosis."

It is thought to be caused by the retention of inhaled particulates of 0.2 to 0.5 μm in the lungs.
Pneumoconiosis takes years to develop and is said to be even now incurable by modern medicine. Depending on the type of particulates, they may cause acute or chronic intoxication, cancer after a certain amount of time or such diseases as bronchial disorder, asthma and allergy.

To prevent inhalation of these harmful particulates, it is important to wear a particulate respirator appropriate for a particular working condition.
Type and Class of Particulate Respirators
Based on Japanese Standards for Particulate Respirators particulate respirators must pass the type examination based on the Japanese national standards aside from Japanese Industrial Standards (JIS).
The type examination covers a wide range of items to ensure the safety of certified respirators.
S
L
Category
(Particulate filtering efficiency)
Example
Test particulate:
Solid sodium chloride
Test particulate:
Liquid dioctyl phythalate
R

Replaceable
particulate respirator

RS1
RL1
Category1
(over 80.0%)

1005R (RL2)
RS2
RL2
Category2
(over 95.0%)
RS3
RL3
Category3
(over 99.9%)
D

Disposable
particulate respirator

DS1
DL1
Category1
(Over 80.0%)

Hi-Luck 350 (DS2)
DS2
DL2
Category2
(over 95.0%)
DS3
DL3
Category3
(over 99.9%)
*Besides particulate filtering efficiency, inhalation resistance and exhalation resistance are also classified.
Selection of a Good Particulate Respirator
Particulate respirators are used for a wide range of applications including welding, demolition, polishing, spraying and powder handling.
To choose an appropriate respirator for a particular work, the following conditions must be met:
・Must be a Japanese National Assay approved product.
・Must be an effective and easy to use respirator appropriate for a particular work environment.
・Must fit your face snugly.
Do not use the particulate respirator in oxygen-deficient environment (where the concentration of oxygen is less than 18%) or workplace where toxic gas exists.
Koken's High Performance Particulate Respirator
Koken's particulate respirator is equipped with a filter with its high filtering efficiency to prevent inhalation of fine harmful particulates.
To avoid inhalation of particulates effectively by wearing a particulate respirator, not only the performance of a filter but also a good seal between the mask and face play important roles.
Contact
Koken
for any inquiries.
Koken's Advanced Filter Technology
Mighty (or Uni)-Micron filter
(electrostatic filter)
Alpha-Ring Filter
(fibrous glass filter)
With our unique technology to electrostatically charging the wool as a filter material, it provides a remarkable capacity to capture particulates.
Because it does not require a high-density fiber structure, it can combine seemingly contradictory performances of "high particulate filtering efficiency" and "low breathing resistance."
For the first time in Japan we developed a technology so that ultra-thin fibers are integrally molded to form a pleated filter in the shape of multiple concentric circles.
In spite of being compact, it has an enlarged filtering surface, realizing a low breathing resistance.
Koken's Advanced Facepiece Technology to Ensure a Snug Fit on Face
Silicone Facepiece
Silicone is a skin-friendly material with less irritating properties. It is flexible enough to follow facial movements so that it can be donned stably. It exhibits excellent stability of properties.

Free-Position
Under-Chin Structure

It is designed to provide a proper face-to-facepiece seal for a wide variety of sizes and shapes.
Position the top of the facepiece aligned with the bridge of the nose (where leaks occur most often) and then place the bottom of the facepiece under the chin. By so doing, it can fit any size or shape of face.

HAWC Lip

HAWC (High Adaptable Wide Concave) lip is designed to provide a suctorial effect in which seal between the face and the facepiece is enhanced.

Free Fit (FF) Lip

The surface of the uniquely curbed facepiece lip enhances the seal between the face and the facepiece. It is designed to fit most face sizes and head shapes of the Japanese population.

Headband

Improved fitness is obtained with 3-dimentional plastic-molded cradle harness.
It fits the crown of the head snugly and a good fitting feeling and a tight seal are enhanced.

Built-In Fit
Checker

By simply lifting up the lever of the built-in fit checker with fingers, a negative pressure fit test can be performed any time.
While continuing our efforts in advanced technology development to enhance the fitness of a respirator, we are providing fit testing services for workers in organizations including hospitals and manufacturing plants in which a mask fitting tester is used to measure face-seal leakage of every individual test participant numerically.
The total number of participants as of writing are now surpassing 410,000. Fit testing results have helped them select and acquire a proper respirator.
[Fit Testing Services]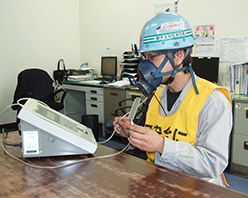 | As of End of January, 2018 | Industry | Health Care | Total |
| --- | --- | --- | --- |
| Participant (number of people) | 250,783 | 159,677 | 410,460 |
| Event (number) | 13,222 | 10,086 | 23,308 |
Contact
Koken
for any inquiries.