Toxic Gases and Chemical Cartridge Respirators/Gas Masks
Tens of thousands of different kinds of chemicals exist in our work environment. Many of them are harmful and there is a possibility of resulting in acute poisoning caused by inhalation of high concentrations of toxic gases or serious injuries by chronic exposure to low concentrations of these toxic gases for long periods of time.
There are various kinds of injuries caused by chemical exposure: Only very small quantities of some chemicals are extremely harmful while others gradually build up in your body, undermining the health to cause disease long after you are first exposed.
No effects can be expected to remove toxic gas unless a respirator with an appropriate chemical cartridge is selected according to the kinds and concentrations of toxic gas. How to remove toxic gas is different for each of chemical cartridges.
Upper limit concentrations where the use of chemical cartridge respirator/gas mask is permitted.
The use of chemical cartridge respirator/gas mask is permitted only when (1) the concentration level of oxygen is more than 18% in the working environment at normal temperature, normal humidity and normal pressure and (2) the concentration level of toxic gas existing in the working environment does not exceed the upper limit described below.
Upper limit concentrations set by the Japanese National Standards related to the use of chemical cartridge respirators/gas masks.
| Type | Gas concentration | Gas masks/Chemical cartridge |
| --- | --- | --- |
| Separate connection | Less than 2% below 20,000ppm | |
| Direct connection | Less than 1% below 10,000ppm | |
| Direct connection-Compact | Less than 1% below 1,000ppm | |
Concentrations where the use of separate or direct connection type chemical cartridge respirator/gas mask for ammonia gas is permitted are 1.5 times the above figures.
Upper limit concentrations are determined for each type of chemical cartridge by the Japanese National Standards as described above. And JIS T 8150-Guidance for selection, use and maintenance of respiratory protective devices and the guideline of the Japanese Respiratory Protective Equipment Manufacturers Association set criteria for each type of facepiece.
Selection of Chemical Cartridges
Choose the correct chemical cartridge suitable for each target gas that exists in the work environment.
Target Gas
Halogen Gas
Acid Gas
Organic Vapors
Ammonia
Sulfur Dioxide
Hydrogen Cyanide
Hydrogen Sulfide
Ethylene Oxide
Formaldehyde
Alphabets
A
B
C
H
S
J
K
-
-
Test Gas
Chlorine
Hydrogen Chloride
Cyclohexane
Ammonia
Sulfur Dioxide
Hydrogen cyanide
Hydrogen sulfide
Ethylene Oxide
Formaldehyde/


Cyclohexane

Concentration of Test Gas
Direct
0.3%
(3000ppm)
0.3%
(3000ppm)
0.3%
(3000ppm)
1.0%
(10000ppm)
0.3%
(3000ppm)
0.3%
(3000ppm)
0.3%
(3000ppm)
-
-
Direct-Compact
0.02%
(200ppm)
0.03%
(300ppm)
0.03%
(300ppm)
0.1%
(1000ppm)
0.03%
(300ppm)
-
0.02%
(200ppm)
0.003%
(30ppm)
0.002%(20ppm)


0.03%(300ppm)

Maximus Permissible Penetration Level
(Concentration)
1ppm
5ppm
5ppm
50ppm
5ppm
5ppm
10ppm
1ppm
0.1ppm/


5ppm
Koken's High Performance Chemical Cartridge Respirator/Gas Mask
To prevent the inhalation of toxic gas it is important not only to select a correct respirator or chemical cartridge but also to wear a respirator snugly on the face. There is no use wearing a gas mask in the first place if there is a gap between the face and the respirator through which an inner leakage of toxic gas may happen.
Koken has developed various innovative technologies that can make the respirator fit on the face snugly.
Koken's Advanced Facepiece Technology to Ensure a snug fit on Face
Silicone Facepiece
Silicone is a skin-friendly material with less irritating properties. It is flexible enough to follow facial movements so that it can be donned stably. It exhibits excellent stability of properties.
Free-Position
Under-Chin Structure
It is specially designed to form a tight seal for a wide variety of sizes and shapes.
Position the top of the facepiece aligned with the bridge of the nose (where leaks occur most often) and then place the bottom of the facepiece under the chin. By doing so , it can fit any size or shape of face.
HAWC Lip
HAWC (High Adaptable Wide Concave) lip is designed to provide a suctorial effect in which seal between the face and the facepiece is enhanced.
Headband
Improved fitness is obtained with 3-dimentional plastic-molded cradle harness. It fits on the crown of the head snugly and a good fitting feeling and a tight seal are enhanced.
Built-In Fit Checker
By simply lifting up the lever of the built-in fit checker with fingers, a negative pressure fit test can be performed any time.
While continuing our efforts in advanced technology development to enhance the fitness of a respirator, we are providing fit testing services for workers in organizations including hospitals and manufacturing plants in which a mask fitting tester is used to measure face-seal leakage of every individual test participant numerically. The total number of participants as of writing are now surpassing 410,000. Fit testing results have helped them select and acquire a proper respirator.
[Fit Testing Services]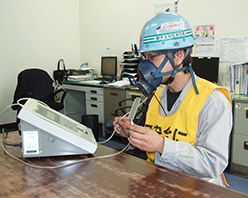 | As of End of January, 2018 | Industry | Health Care | Total |
| --- | --- | --- | --- |
| Participant (number of people) | 250,783 | 159,677 | 410,460 |
| Event (number) | 13,222 | 10,086 | 23,308 |
Structure to ensure airtightness
Double bonnet structure
Held in a space between the silicone facepiece body and the plastic bonnet enclosure, an exhalation valve is effectively protected from external factors such as wind.
Due to this double bonnet structure exhaled air which stays inside the enclosure acts as a barrier to prevent possible inward leakage of ambient hazardous air into the respirator, allowing the exhalation valve to increase its airtightness more effectively.
The exhalation valve seat, which used to be positioned downwards near the chin, is now located at the upper end of the respirator, increasing the field of downward vision to enhance workability.
Contact
Koken
for any inquiries.