Respiratory protection is now entering the era of PAPR
The PAPR is now attracting attention as next generation Respiratory Protective Equipment (RPE).
Against a backdrop of the compulsory use of respirators by regulations, awareness of occupational safety and health is intensified and the demand for higher performance respirators is increased.
The respirator with a high filtering efficiency of 99.9% by itself, however, does not provide a good enough protection because the protection performance of a respirator should be determined by a total performance as the equation below shows:
Protection performance of a respirator = filtering efficiency + fit between facepiece and face
By supplying purified air into the facepiece, the PAPR can prevent particulates from entering through a gap between the face and the facepiece, thus providing a high protection performance.
It is a "literally" high performance respirator to protect the workers' health.
PAPRs must pass the type examination based on the Japanese national standards.
The type examination covers a wide range of items to ensure the safety of certified products.
Categories by type
Standard type
Separate connection
Full facepiece/Half facepiece
Direct connection
Full facepiece/Half facepiece
Loose fitting type
・Hood
・Face Shield
Separate connection
Direct connection
Categories by performance
By motor blower capacity
By leak rate
By filtering efficiency
Standard air flow type
(over 104 L/min.)
B class
(less than 5.0%)
Test particulate: Solid Sodium chloride (NaCl)
Test particulate: Liquid Dioctyl phthalate
A class
(less than 1.0%)
PS 1(Over 95.0%)
PL 1 (Over 95.0%)
Large air flow volume type
(over 138 L/min.)
S class
(less than 0.1%)
PS 2(Over 99.0%)
PL 2 (Over 99.0%)
PS 3(Over 99.97%)
PL 3(Over 99.97%)
*Besides particulate filtering efficiency and leak rate, inhalation resistance and exhalation resistance are also classified.
Workers must wear PAPRs in certain work activities.
The following work activities require the use of PAPRs by regulations and notifications by the Japanese authorities.
・Asbestos removal work
・Tunnel construction work
・Handling of nanomaterials
・Handling of indium
・Handling of dioxin

Features of Koken's breath-Response "BL series" PAPR
To achieve a high level of security and excellent wearing comfort, we have developed and still is developing new technologies (1) to improve protection performance(Security), (2) to increase energy efficiency of a blower unit by cutting waste (Airflow technology) and (3) to realize further lightweighting (lightweight design).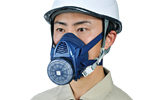 Revolutionary airflow technology-World's first Breath Synchronized Air Flow System (BSFS)
"BL series" PAPR is equipped with Breath Synchronized Air Flow System that supplies an optimum amount of air, perfectly synchronized with the wearer's breathing pattern. With this innovative BSFS technology, a high level of security and excellent wearing comfort has been realized.
Go to Basic knowledge of BSFS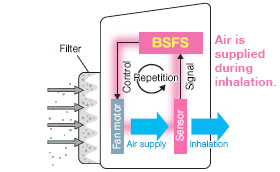 Lightweight design to reduce neck stress for long hours of work
"BL series" PAPR with a focus on lightweight and downsizing just about the same as the particulate respirator is highly regarded and used in lieu of particulate respirators in many work sites including tunnel construction work, asbestos removal work and arc welding operation.
To reduce neck stress more, the PAPR type with a separate battery pack and a downsized version of the standard PAPR are available.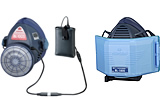 Safety design to monitor and maintain positive air pressure inside the facepiece. (BL-700, 200 and 100 series have this function in common.)
When the filter is clogged and the filter's air flow resistance increases, the fan's airflow rate is decreased. This reduces the air pressure inside the facepiece, which activates the monitoring system to turn on alarming lights. It is time to replace the filter with a new one.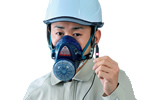 Contact
Koken
for any inquiries.